Ceramic Aromatherapy/Essential Oil Burner
0640208026042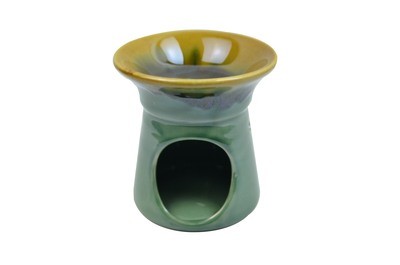 Essential oil/Aromatherapy
This aromatherapy/essential oils burner finished with a yellow and green glossy glaze.
This burner made from single piece ceramic with bottom part for placing the candle and one little bowl on the top for placing water and aromatherapy/essential oils.
PRODUCT IN ACTION
Place a candle in the candle holder, fill the bowl with water or salt, then drop a few drops of your favorite aromatherapy/essential oil into the water. Make sure to keep the water dish full, after a few hours the water will evaporate.
It can make an elegant gift for a wedding, Mother's Day, Christmas, anniversary, housewarming or just for yourself.
Dimensions (approx.)
Diameter: 3.74" (9.5cm)
Height: 4.92" (12.5cm)
Product Details
Ceramic oil burner
Handmade of natural clay
Color: yellow and green glossy glaze
Dishwasher & oven safe
Each piece is colored separately and treated with lots of love and care, burned in high-temperature multiple times which makes it very strong and durable
NOTE
Due to the nature of handmade items, slight differences in colors and shapes may occur from the images. We will make sure your pieces are just as lovely as in the photos.
Weight : 200gm