Block Coin Pouch Songket (Black)
0690111103944B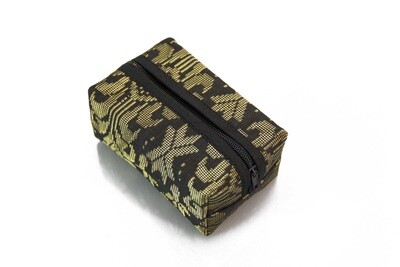 GIFTS & SOUVENIRS
This coin pouch is made of songket fabric. Songket is a fabric that belongs to the brocade family of textiles of the Malay world.
It is hand-woven in silk or cotton, and intricately patterned with gold or silver threads. The metallic threads stand out against the background cloth to create a shimmering effect.
They're usually carried with other bags, or are included as a part of a handbag. It's a perfect fit for coins, cash and cards too!
SPECIFICATION
Dimension: 10cm(L) x 6.5cm(H) x 4cm(W)
Material: Songket fabric
Color: Black based cloth with gold thread weaving
Weight : 100gm
*For bulk purchase of made craft products, please check with us the availability*